Our Advisory Team
Marty Hoffman, MD, FACSM
Dr. Marty Hoffman is Professor of Physical Medicine & Rehabilitation at the University of California Davis, Chief of Physical Medicine & Rehabilitation at the VA Northern California Health Care System, former Director of Research for the Western States Endurance Run (2006-16), former team physician for the US Biathlon Association (1988-95), and Chief Medical Officer for the Ultra Medical Team.  He has published over 150 original scientific publications mostly related to applied exercise physiology with focus on human locomotion, human performance and exercise-associated hyponatremia.  His clinical work has involved cardiac rehabilitation, musculoskeletal medicine and sports medicine.  He has been a Fellow of the American College of Sports Medicine since 1989 and serves on multiple editorial boards.  He has been a competitive cross-country skier or distance runner for most of his life, and still enjoys exploring his own limits…..though at a much slower pace than in the past.
 Kristin Stuempfle, PhD, FACSM
Dr. Kristin Stuempfle is Associate Provost for Academic Assessment, Dean of Natural Sciences, Mathematics, and Computer Science, and Professor of Health Sciences at Gettysburg College in Gettysburg, PA.  She has been a fellow in the American College of Sports Medicine since 2004.  Her research interests include examining the physiological challenges of ultra-endurance running.  More specifically, she is interested in hyponatremia, gastrointestinal distress, and the food and fluid needs of ultramarathon runners.
Nick Nudell, MS, NRP, FACPE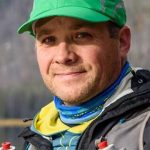 Nick has been a paramedic for many years working on building equitable and sustainable emergency care systems in rural and remote areas. Although he is not a particularly gifted athlete, that has not stopped him from attempting a number of challenging mountainous 50 and 100 mile races in addition to single and multi-day solo fastpack efforts.  Through the Ultra Medical Team, he has directed medical operations for more than 50 races (from trail marathons to 200 mile trail races) in North America and has led a team of more than 100 dedicated volunteers.